NEED HELP ?
We are here to listen to you. You can reach us simply by email or by phone.
NEED FOR A COMMERCIAL OFFER:
You are interested in one of our solutions and would like to receive a quote or additional information? Send us your request here:
Consult our FAQ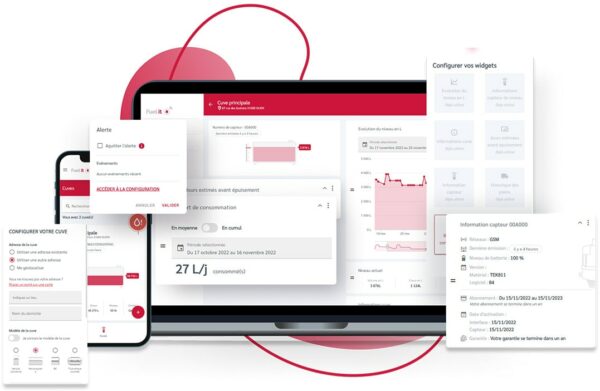 Features
Network
Alerts
In the "My account" space, a tab "My theoretical consumption" is to be filled in according to different criteria such as, annual reference consumption, number of people living under the roof, surface area of the dwelling, etc. This information is not essential, but it does help in the accuracy of date estimates before breakage.
You can set up your alerts in the tab "My alerts My tank", according to two options: remaining fuel in liters or days before breakdown. You can go back to these values at any time by clicking on "modify alert levels". You will have the choice between Email or SMS alerts, you activate the options by clicking on the icons. A green icon indicates that the option is enabled.
Indeed it is "normal" that you did not receive anything, it is a loving trigger. A magnet trip is considered a test or an activation. This prevents that companies or people, receiving a sensor and performing tests on it, receive XX mails and 5 SMS in a row, leaving them no possibility to receive SMS later during the month in case of real need.