---
The Fuel it connected gauge

…. A sensor that prevents breakdowns and much more!



---
In this article you will discover that this connected gauge is.

Easy to install
Here are the technical characteristics of the sensor & the repeater


Connected
to two web platforms

A sensor that gives you
offers you

visibility
with FuelDesk: a dashboard designed for professionals and adapted to your needs


Linked
to a FuelSens platform: a simple and practical dashboard for your end customers
Discover also our complementary solution :
the connected button
Fuel it, a button that makes your life easier as well as the
possible customization
with your company colors.
---
The Fuel it connected gauge
---
The Fuel it connected gauge: what is it?
Fuel it is the brand of connected object of the company 4! (Four Factors), which offers a complete
a complete fuel supply solution.

Thus, with Fuel it, we have created the 1st
connected level sensor
. It allows, in particular, not to break down, to forecast your consumption, to alert you in case of leakage, thefts… and also provides a decision support.
It is therefore a smart level gauge for all types of tanks, connected via the new Lora & Sigfox radio networks.
It allows to send notifications to its owner:
– level alert (according to defined thresholds)
– estimated time to failure/overflow
– drop in level alert
In addition, the information is available on a dashboard on the Internet, via a mobile application or on your own interface via API.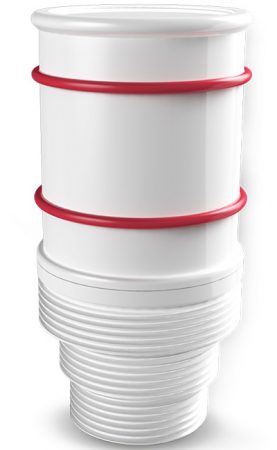 Thus, the product is intended either for :
–
individuals
who have a tank and do not want to break down anymore
–
professionals
(majors + independents) wishing to know the tank level of some of their strategic customers and thus anticipate their supply or emptying requests.
Technical characteristics of the connected gauge
---
Sensor dimensions: height: 120 mm, diameter: 60 mm
Pitch: x3 ( outside diameters (from the smallest to the biggest) : 1 inch 1/4 , 1 inch 1/2 , 2 inches
Angle of diffusion of the ultrasound cone: <30°.
Number of daily readings: 4 per basic day. The readings can be modulated upstream according to the customer's request, for more readings (the decrease of the battery life must be taken into account).
Type of monitoring: the Fuel it connected gauge allows you to monitor consumption and filling. It avoids either failure or overflow.
Protection class: IP 67
Compatible fluids: Fuel, water, lubricants…
Range of the sensor : minimum distance: 15 cm (between 0 and 15 cm the tank will be considered full)
Maximum distance: 4 m
Measurement indicator: a brief blue light appears to indicate that the sensor is switched on and also when it is performing a measurement.
Network connectivity: Sigfox/LoRa
ISM band: 868 MHz (CSS / BPSK)
Data retrieval: the sensor sends its data in JSON format to the Fuel it REST API
Measuring technology: ultrasonic sensor system. Emission at 40 kHz.
Batteries: 2 Batteries 1,5V AAA LR03 – non rechargeable – alkaline
Battery life: 5 years
Product environmental conditions: operating temperature range -30°C to +60°C. Operating humidity 0 – 95% non-condensing.

Installation conditions
The Fuel it sensor must be mounted directly on the tank (if there is a chimney, this must be specified when connecting to the Fuel it dashboard). The sensor must then be installed vertically to the liquid, at more than 10 cm from the wall, without any obstacle in a straight line so as not to interfere with the ultrasonic measurement.
A sensor adaptable to all tank shapes
---

Shapes of tanks
parallelepipedic, cylindrical lying, spherical or cylindrical standing…
Additional information:
– all tanks can be indicated as "mobile".
– the dimensions of the tank can be calculated via the sensor (nevertheless it is necessary to know 2 data minimum. Ex: volume (L) and height (cm)).
– no maximum volume. Complex tank formats can be entered via charts
Setting of the tank with different points:
Stacks (offsets) & reinforcements are now taken into account
3 standard screw threads allow the sensor to be fixed on all tanks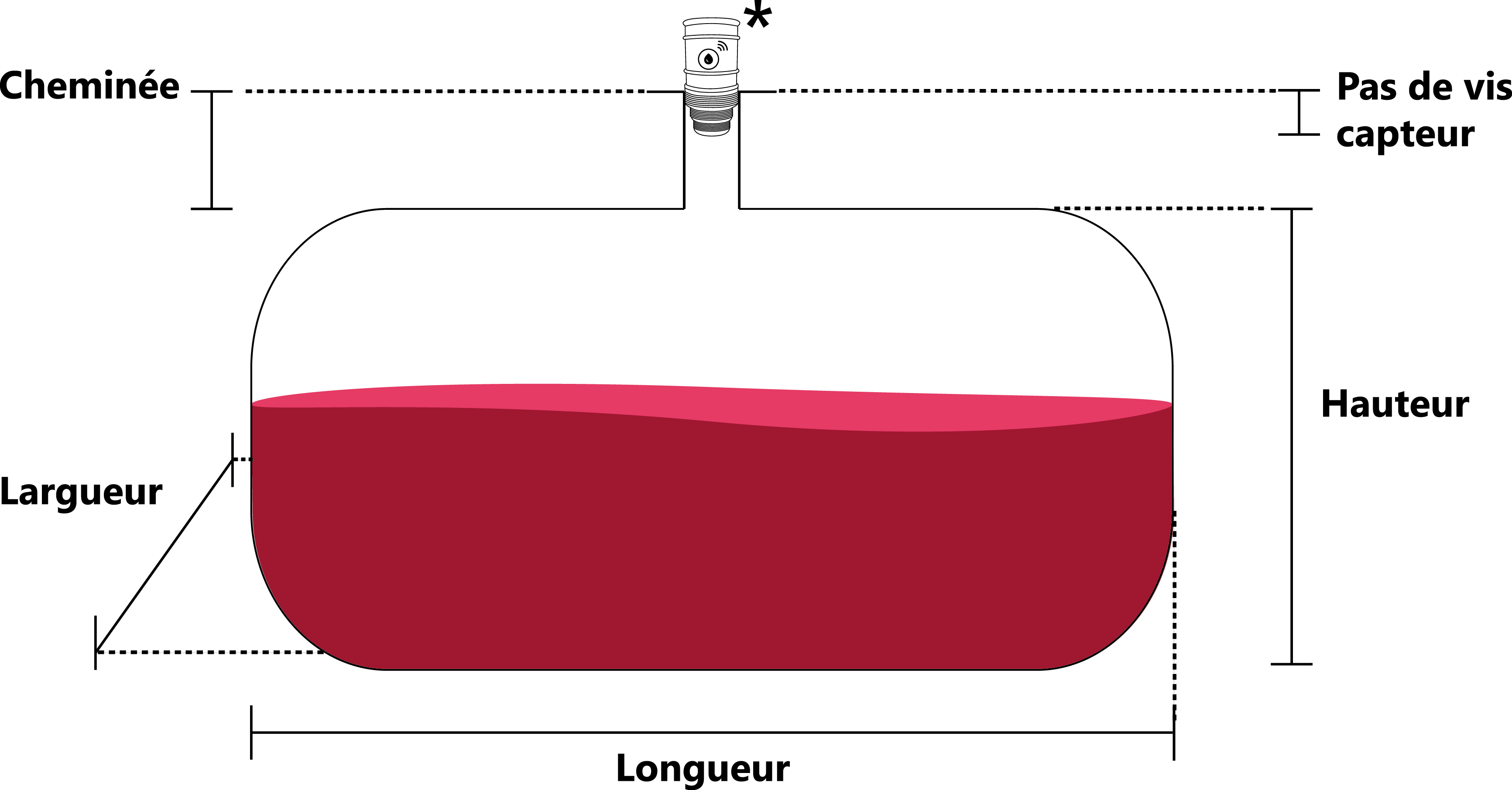 Different use cases
---
Oil heating
Few residents monitor their oil tanks on a daily basis. Thus, they often get caught in the heart of winter. They therefore need
a simple and effective alert tool
.
Target : Individuals/ Building management systems (BMS)
Tank for generator set
Generally, the generators ensure the continuity of service of the most critical equipment (data centers, prisons, hospitals, etc.). This is why the level of their
their oil tanks must be monitored very regularly
.
Target : Professionals – Heating engineers
Fuel storage (GNR, AD Blue, etc)
Of course, a vehicle runs better with a full tank. Fuel it helps both farmers and fleet managers who use internal fuel storage. Their objective:
to accurately monitor their consumption
and
manage refills
.
Target: Farmers – Transporters – Public works
Functional diagram of the Fuel it sensor
---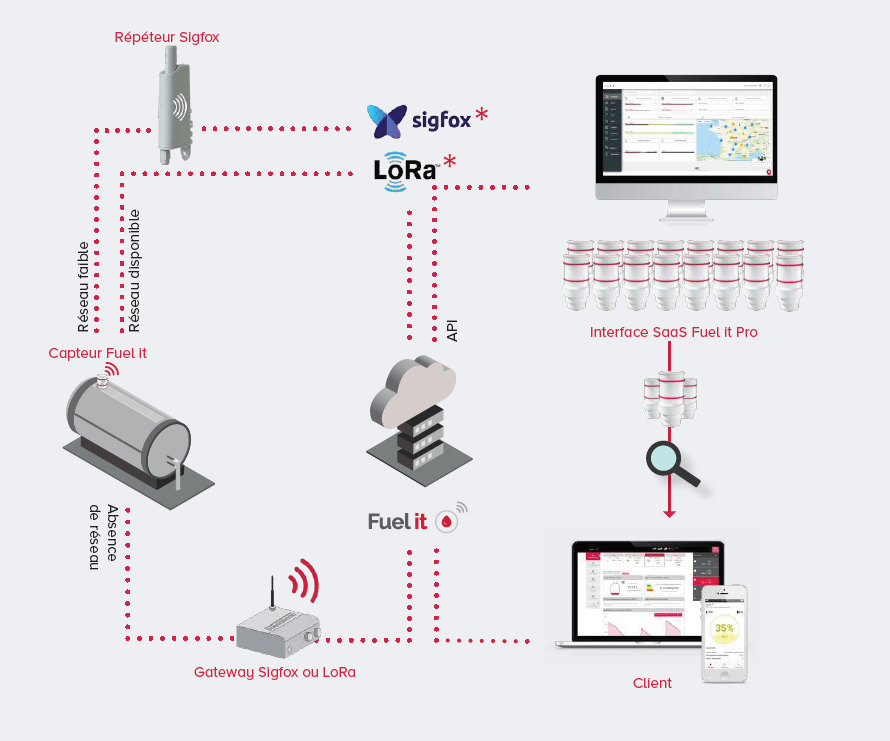 * Networks dedicated to connected objects, IOT (Internet of Things)
Unlike traditional mobile networks, such as 4G or 5G, which can carry large amounts of information, LoRa and Sigfox are not, however, tailored to meet the needs of devices emitting large amounts of data. Thus, this frequency modulation technology can only circulate small packets of data, emitted by sensors attached to connected objects. It will then be able to transmit between 0.3 and 50 kilobits per second (the network speed adapts to each object so as not to eat up too much bandwidth). Fuel it sensors work on this principle: on an ISM band: 868 MHz (CSS / BPSK)
An easy to install gauge
---
A simple and intuitive installation, the Fuel it sensor is screwed in place of the cap of your tank.
1-
Screw & position
the sensor vertically above the fluid
2-
Pass the magnet
on top of the sensor
3- A blue light appears. Your sensor has just been activated. From this first triggering, the initialization of the cycle of the sensor has just started (if your sensor is set for 1 sending/day, it will make its new daily measurement the following day at the same time). The passage of the magnet will not be necessary to make a measurement.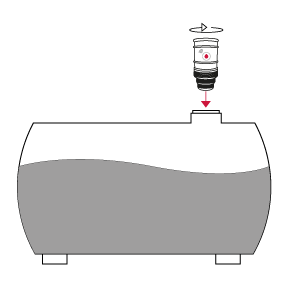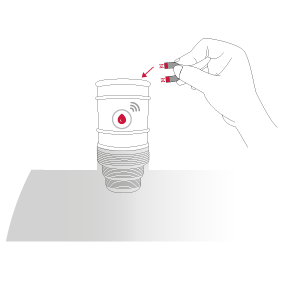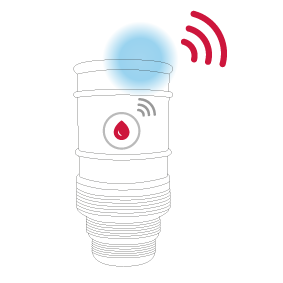 The Fuel it connected gauge has 3 screw threads, allowing it to fit all types of tanks!
Its installation is therefore very easy! To activate it, you just have to pass the magnet (provided in the packaging) near the sensor. Then a blue light appears: the installation of the sensor is then successfully completed! Finally, the tank can be set up from the FuelSens area by your customer, or by you from the FuelDesk area.
Simple installation = no additional costs
Complementary products
---
The custom-made double inlet/IBC cap
– Allows you to keep an opening while installing a Fuel it sensor
– Allows the use of caps with two tamper-evident caps
– Perfectly sealed & correctly screwed sensor
Sigfox or LoRaWAN network testers
– Easily test the quality of the network precisely where you want to install a sensor.
– Easy to read thanks to indicator lights
The Sigfox micro station
– In areas not covered by the Sigfox network, the micro station broadcasts from the Internet (wired or 3G connection) a local Sigfox network.
– The station can thus cover at least 2 entire buildings. The range is then from a hundred meters to several kilometers. In fact, everything depends on its position and the number of obstacles around it.
The Sigfox repeater
– The repeater then has the task of "repeating" the Fuel it sensor messages when the network is insufficient. Range: up to 300m outdoors/50m indoors.
– You will even receive your repeater pre-configured, you just have to install it!
– The repeater can be installed indoors or outdoors provided the Sigfox network is present. Operating temperature : -20°C/+60°C.
ZOOM ON: the Fuel it connected button
---
A button that makes your life easier!
The Fuel it connected button is complementary to the Fuel it connected sensor. This button can also work on its own, but fuel requests will not be checked and therefore not approved by the Fuel it sensor.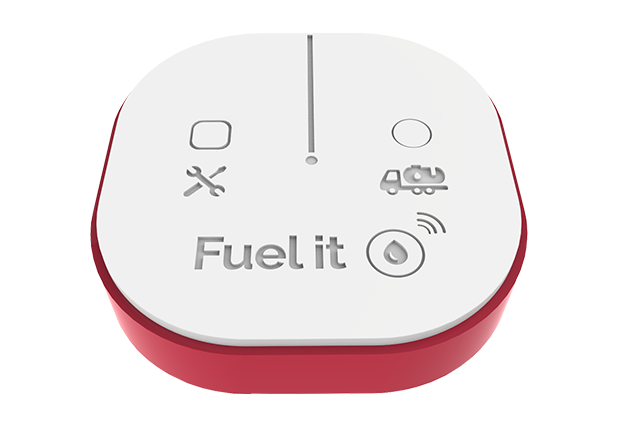 BONUS: The Fuel it button is also customizable in different colors.
The functionalities of the connected button
Transmission of instantaneous alerts
Qualification and location
Real-time monitoring of interventions
Documentary traceability
100% customizable button messages & icons engraved
Left click: request for technician intervention
Right click: request fuel delivery
LED indicator, send/receive & low battery
Magnetic surface on the back: put it down, it's installed!
---
The solution for individuals
---
The Fuel it gauge for individuals
The Fuel it connected gauge allows you to:
See the
level of the tank
in real time (in % or liters)



Be alerted or alert


the person of your choice (SMS, Mail or diary invitation) when the level reaches a predefined level (% or liters), in particular during an "exceptional" drop in level (theft, leakage, etc.), when a period of time before breakdown is reached (X days).
A
easy installation
and requires no intervention: no installers, no tools.
Works regardless of the configuration of its tank
In addition, the sensor
works on battery
and does not require any connection: long life battery/cell (3 to 5 years). Also, the information collected is confidential and secure
Thus, Fuel it offers a complete solution ("end to end")
of supply
with the possibility of contacting the professional responsible for the tank for a replenishment or an emptying.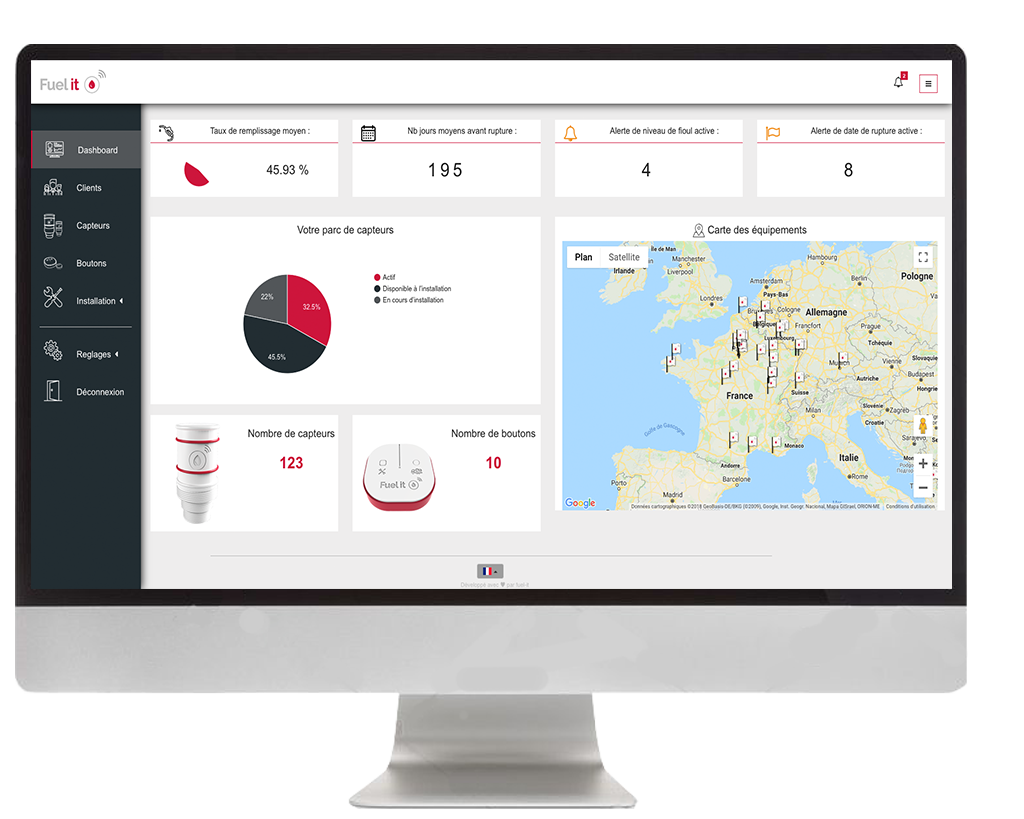 FuelSens : The Fuel it space dedicated to individuals
---
View 4 different tanks
Visualization on the private dashboard up to 4 tanks, for the addition of 5 tanks or more you will then be directed to the professional dashboard.
Your daily consumption
Knowledge of your consumption in liters/day.
Your estimated time to failure
Estimated date (in days) before rupture according to your consumption allows you to anticipate a fuel failure.
Your oil consumption evolution
Simply visualize the evolution of your fuel consumption over the year, the month or the last week.
Manage different types of liquids
Set up your tank according to different types of fluids.
A complete parameterization space
You can modify your alert parameters (SMS & mail) as you wish, according to precise levels or activate/deactivate them. Set up your tanks, liquids, etc..
---
The solution for professionals
---
The Fuel it gauge for professionals
For professionals, the Fuel it gauge allows :
to manage a set of connected gauges
on the same dashboard
and also give the
indications of level
and time to failure/overflow.

prioritize
customer needs according to criteria (type of customer, location, type of liquid, alert threshold)
propose optimized
optimized tours

contact the customer directly and thus propose specific


specific price offers


and to buy in security.
a simple installation and quick installation from the same interface
retrieve
data
to generate custom reports (CSV format)
create subsidiaries and users for the platform (
different roles
possible)
set up SMS and SMS and email alerts according to two thresholds: deliverable/collectable threshold & emergency threshold.
In addition, the gauge is
compatible with your ERP
and management systems via API.
Our value propositions
---
Operational optimization
By anticipating disruptions and classifying your customers by criticality, Fuel it's algorithms offer you new potential for operational optimization.
Management and steering tool
The connected gauge allows you to calculate your consumption day by day but also to follow your fillings or to simplify your inventories.
Data connected directly to your ERP
Your customer data is accessible in SaaS on the Internet and therefore compatible with your existing tools, CRM and ERP via our API.
FuelDesk: the space dedicated to professionals
---
Visualize all your tanks
You will be able to visualize on the professional dashboard all your tanks or those of your customers (average filling rate, your fleet of sensors, alerts triggered at your customers or internally, etc.. )
Locate your sensors
As soon as a sensor is activated, it is instantly located on a map
Manage a set of devices
The FuelDesk space allows you to integrate different types of sensors such as: connected button, repeater, temperature sensor, humidity sensor and much more!
Create custom alerts
A tab dedicated to alerts: Mail/SMS. There are also two types of alerts: deliverable/collectable tank threshold and emergency threshold. The alerts are set in days remaining before rupture/overflow or in filling percentages. Several people can also be alerted for the same tank.
Customize your tables according to your needs
Each table is customizable according to your criteria and the information you need. A dashboard that adapts to your business.
Easy filtering/viewing
Perform filters according to different criteria: tanks in active alerts, type of customers, subsidiaries, liquid etc. .
Install sensors directly from the professional area
From now on, management from the professional space. Assigning a sensor or sensors to a customer has never been easier!
NEW: Plug-ins are available
They allow you to have a platform always more adapted to your needs!
---
A solution that can be customized with your company's colors
---
Fuel it sensors in your colors
O-rings
your company logo printed on adhesive pads or engraved directly
as well as the packaging & the notice
The dashboard in the image of your company
your company logo
your company's colors