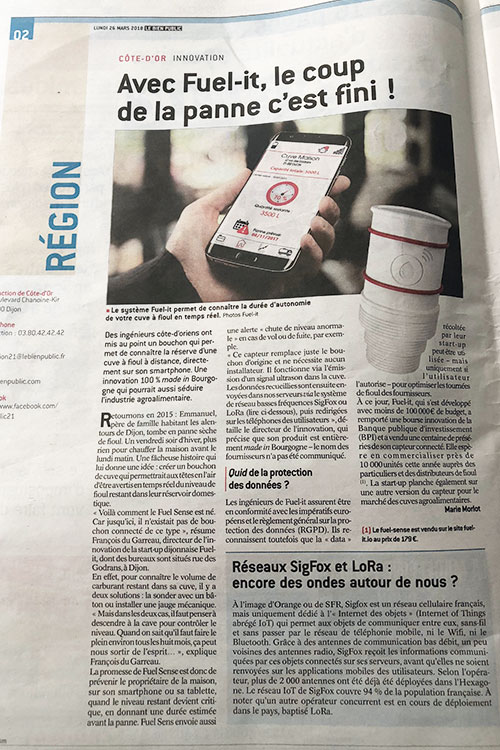 With Fuel it, the breakdown blow is over!
The Fuel it system allows you to know the autonomy time of your fuel tank in real time
Engineers in Côte d'Orien have developed a plug that allows you to find out the reserve of an oil tank remotely, directly on your smartphone. A 100% innovation made in Burgundy that could seduce the food industry. 
Let's go back to 2015: Emmanuel, a family man living around Dijon, runs out of fuel oil. On a Friday winter evening, there is nothing left to heat the house until Monday morning. An unfortunate story that gives him an idea: create a tank cap that would allow the heads in the air to be warned in real time of the level of fuel remaining in their domestic tanks.
"That's how the Fuel sense was born. Because until now, there was no such connected plug" summarizes François du Garreau, innovation director of the Dijon start-up Fuel it, whose offices are located rue des Godrans, in Dijon.
Indeed, to know the volume of fuel remaining in its tank, there are two solutions: probe it with a stick or install a mechanical gauge. "But in both cases, you have to think about going down to the cellar to check the level. When you know that you have to refuel about every eight months, it can come to mind…", explains François du Garreau.
Fuel it's promise is therefore to prevent the owner of the house, on his smartphone or tablet, from becoming critical when the remaining level becomes critical, by giving an estimated time before the failure. Fuel direction also sends an alert "abnormal level drop" in case of theft or leak, for example.
" This sensor just replaces the original cap and requires no installer. It works by emitting an ultrasonic signal into the tank. The collected data is then sent to our servers via the low-frequency network system Sigfox or LoRa, then redirected to users' phones," explains the innovation manager, who specifies that his product is entirely made in Burgundy – the names of the suppliers have not been disclosed.
What about data protection? 
Fuel it's engineers ensure that they are in compliance with European requirements and the General Data Protection Regulation (GDR). However, they acknowledge that the data collected by their start-up can be used – but only if the user authorises it – to optimise suppliers' fuel tours.
To date, Fuel it, which has grown with less than €100,000 in budget, has won an innovation grant from the Public Investment Bank (BPI) and has sold about 100 pre-series of its connected sensor. It hopes to sell nearly 10,000 units this year to private individuals and fuel distributors. The start-up is also working on another version of the sensor for the food tank market.
Sigfox and LoRa networks: more waves around us? 

Like Orange or SFR, Sigfox is a French cellular network, but only dedicated to the Internet of Things (Internet Of Things abbreviated IOT) which allows objects to communicate with each other, wirelessly and without going through the mobile phone network, neither Wifi nor Bluetooth. Thanks to low speed communication antennas, a little close to radio antennas, Sigfox receives the information communicated by these objects connected to its servers, before it is sent back to the user mobile applications. According to the operator, more than 2000 antennas have already been deployed in the hexagon. Sigfox's IOT network covers 94% of the French population. It should be noted that a competing operator is being deployed in the country, called LoRa.
Article written by Marie Morlot. 
A huge thank you to the public good for this article, which helps us to make our innovative solution for a connected fuel tank known!