IoT REMOTE MONITORING SOLUTION FOR LIQUID GAS, LPG, PROPANE & BUTANE TANK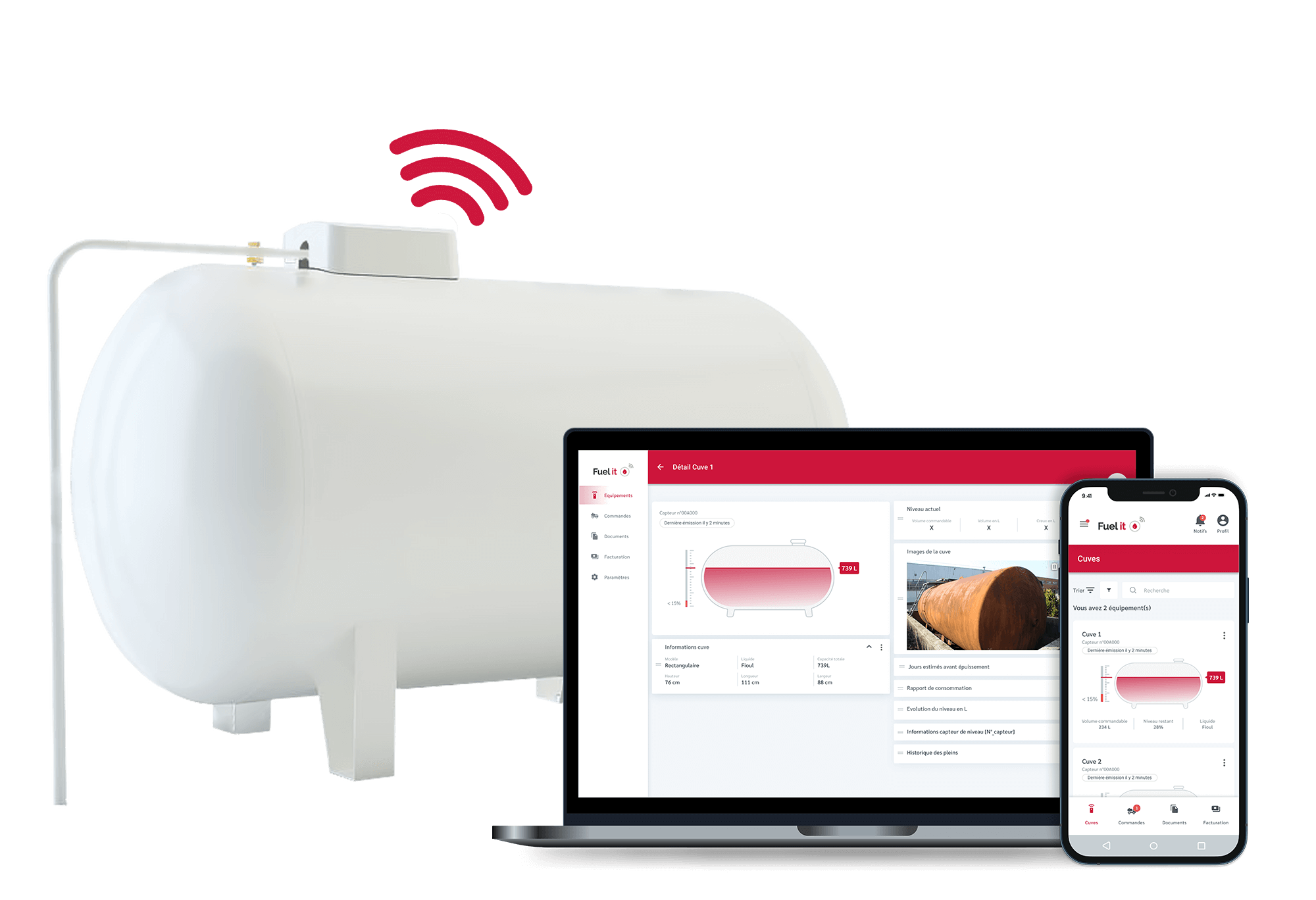 THE INTEROPERABLE SOFTWARE PLATFORM FOR LPG TANK MONITORING
Fuel it is the telemetry solution for ATEX gas tanks connected via LPWAN (Lora & Sigfox) or NB-IOT or LTE-M networks! Connected to the Rochester type magnetic probe, the data is sent to the cloud on the SaaS monitoring platform: FuelDesk. You then have access to the propane tank levels of all your customers!  The solution works on all tanks: overhead or underground.
Read our article, which talks about an IoT solution for gas tank telemetry:https://fuel-it.io/fr/cuves-propane-solution-telemetrie/
An important point in the Fuel it solution is the interoperability of the software:
The propane gas tanks of your customers (professionals, farmers, communities or individuals) may already be equipped with M2M telemetry systems in GSM or GPRS. However, these systems are cumbersome to install despite their good functioning. The FuelDesk supervision platform is interoperable and can receive data from other sensors from the market's hardmakers (Tekelek, Silentsoft, Sensile, HR, etc.) directly or via our API.
Furthermore, the Fuel it dashboard helps you centralize and unify the data under a single monitoring space! No matter which network & which sensor! The data can also be sent via your ERP or CRM via our web service.
The supervision interface also allows you to prioritise your customers' needs according to criteria such as nearby breakdowns, strategic customers, customer typology, location, etc. With the help of our dynamic AI, we can easily and accurately project the theoretical dates of propane gas outages at your customers' premises and help you optimise the scheduling of rounds and much more!
The monitoring of your customers' consumption also helps you to invoice them as accurately as possible according to their consumption. In addition, the platform is fully customisable to your needs. In addition, a QR code system affixed to the tank can allow your customers to follow the remaining level in the tank.
Fuel it, will be present at l'EUROPEAN LIQUID GAS CONGRESS to present its gas tank telemetry solution and our additional solutions!
WHAT ARE THE BENEFITS OF INSTALLING A TELEMETRY SOLUTION ON YOUR GAS TANK?

Avoiding LPG breakdowns

for your customers

An alert will be sent to you (email or sms) when your tank reaches the minimum gas level, so that you can refill with gas.
Plan your customers' restocking easily, by knowing remotely the volume remaining in the tanks.


Optimising LPG

supply rounds

Billing by consumption

without manual readings

Check your tank supply in real time.
You can know your consumption, have more control and never run out of gas


Tracking liquid

propane gas consumption


Limit your travel and the number of trucks on the road to limit your carbon emissions! Save money while protecting the environment.
Consolidate all alerts (level and consumption or battery) on a single Device Management and Data Management platform!


Aggregate your telemetry systems

on a single platform
OUR LTE-M / NB-IOT SENSOR FOR LIQUID GAS TANKS
YOUR TANK CONNECTED TO YOUR PLATFORM
Firstly, the information is visible in real time on your platform directly, allowing you to see all your gas tanks, all at a glance!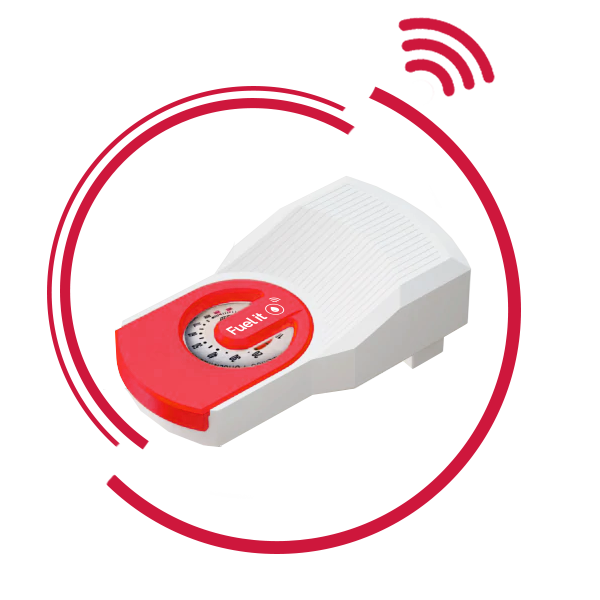 Secondly, the sensor requires neither WIFI nor an electrical connection! Indeed, it runs on batteries and communicates via LPWAN (Sigfox), especially since this network is very energy efficient! This guarantees an optimal battery life!
A ROBUST & RELIABLE SENSOR
It then attaches in seconds to the magnetic meter on top of the gas tank.
EASY TO INSTALL & NON-INTRUSIVE
Finally, the sensor operates between -20°C and +70°C, ATEX compatible. It allows the information indicated by the magnetic counter to be reliably transmitted on a daily basis..

GAS TANK TELEMETRY SOLUTION, AN EASY-TO-INSTALL SENSOR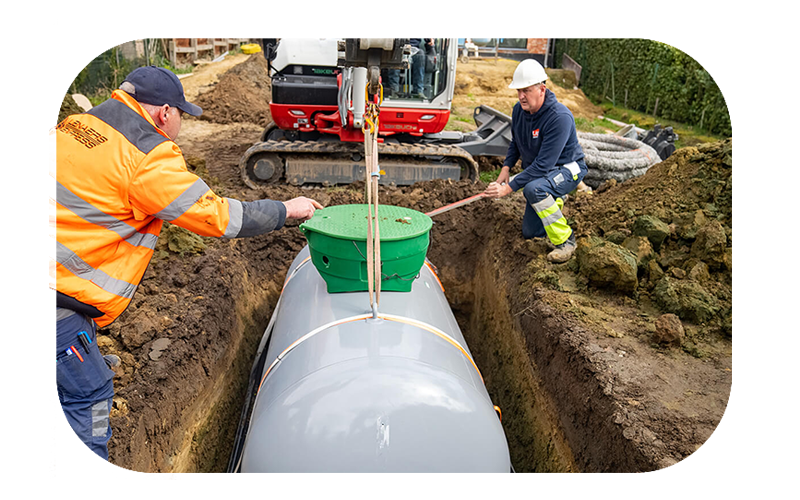 Ideal for Underground LPG Tanks…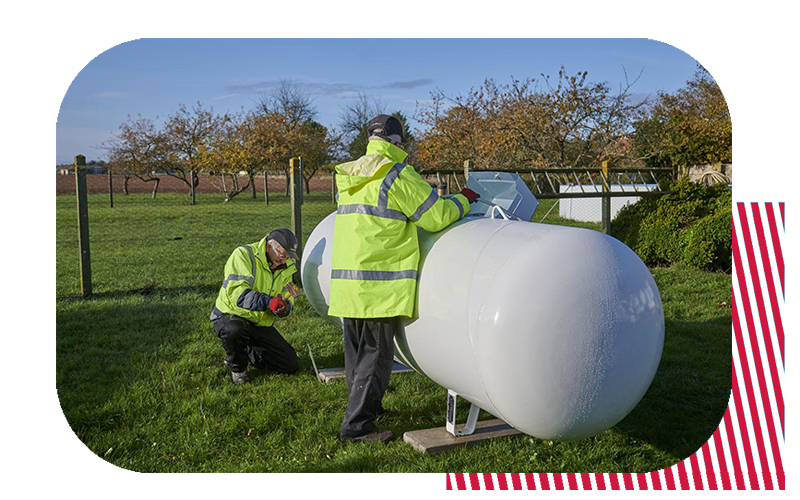 … But also for aerial LPG tanks!
MORE THAN 350 FUEL & LIQUID GAS DISTRIBUTORS (PROPANE AND BUTANE) ARE CUSTOMERS IN EUROPE!