Fuel it was at Viva Technology during May 24-25-26!
An opportunity of visibility and meetings for the start-up Fuel it thanks to the exhibition Viva Technology 2018, on the stand BFC (Bourgogne Franche-Comté) digital. These days allowed us to meet the actors within our own region, to discover new companies everywhere in France and abroad, to exchange with professionals and to gain precious contacts!
"It is always a pleasure to participate in event such as Viva technology, it is an immense opportunity that Nicéphore Cité has offered us! An extraordinary welcome, a dynamic team, a perfect and nice organization! The image returned from our region has been excellent, and we are delighted!" says Capucine Dubreuille.
The exhibition of technological diversity
It is not for nothing that Viva Technology attracts so many people, it is incredible to see the technological diversity existing in France and abroad. From medical to hobby to luxury, there is something for everyone!
Strange robots, with the most astonishing abilities punctuated the course, a pleasure for the eyes and a bath of discovery. Back in pictures on the whole show.
An opportunity for Fuel it to host a presentation on the BFC digital stand and dialogues with professionals.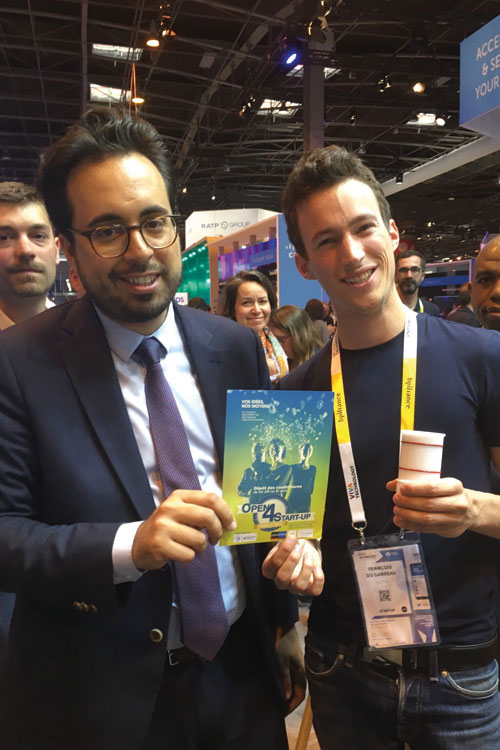 Fuel it meets again Mounir Mahjoubi, Secretary of State for Digital!
We had already met Mounir Mahjoubi during his start-up tour in Dijon, it was with pleasure that we exchanged again with him about our connected fuel tank gauge solution.
Still as interested as ever, we told him about our progress in 2018.
"Since the last time we saw him, he told us he had many application ideas for the Fuel it sensor (water level detection, milk level detection etc)!" François du Garreau.
A huge thank you for these days!
We would like to thank Nicéphore Cité and the BFC Numérique once again for allowing us to participate in Viva Technology and for being so warmly welcomed! An extraordinary organization that allows the start-up to grow and move towards a promising future!
A thousand thanks!
See you soon for new adventures! 🙂